ECLF conference in Vienna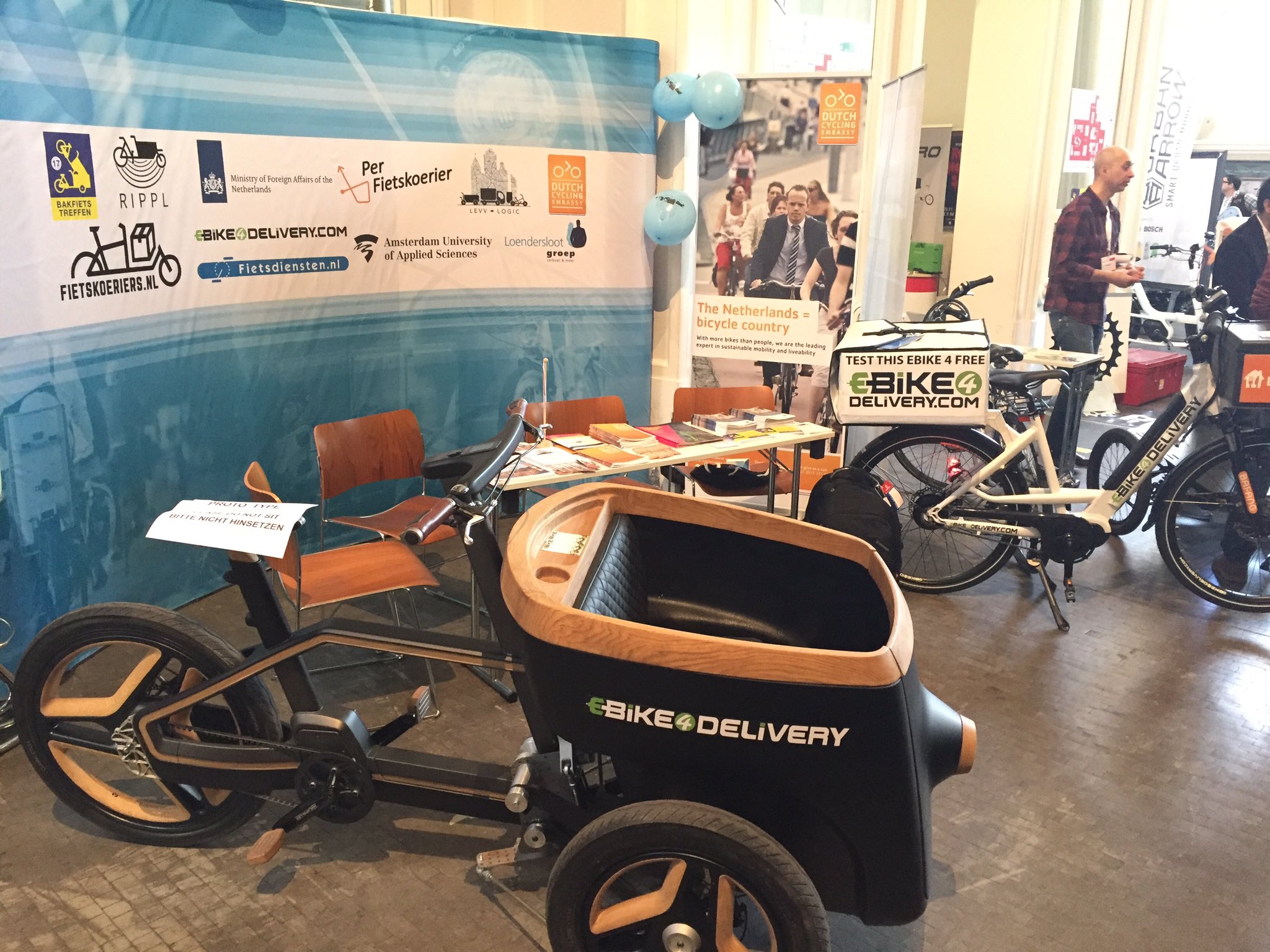 The fourth European Cycle Logistics Federation (ECLF) conference took place in Vienna, Austria on the 20th and 21st of March 2017.
The ECLF is a European conference on cycle logistics and focuses on sustainable urban logistics with cargo bikes. Funding for the event was realized with the support of the EU CycleLogistics Project, Mobilitätsagentur Wien and the City of Vienna. The conference included various inspirational sessions, panel discussions and workshops where the 400 conference participants from 27 countries searched for solutions to answer the question: "What can cities do to support cycle logistics?"
The Dutch Cycling Embassy (DCE) and a selection of the members of the network joined the event. Our expert on cycle logistics and cargo bikes, Mr. Jos Sluijsmans (Fietsdiensten.nl) coordinated the Holland Pavilion in cooperation with the DCE. Mr. Sluijsmans is dedicated to stimulating the use of the bicycle for the transportation of goods and people. He is also the organizer of the International Cargo Bike Festival that occurs annually in Nijmegen (NL).
During the closing ceremony Mr. Jens Holger Kirchner, Berlin's State Secretary for Transport, announced that the Senate of Berlin will host ECLF 2018. The speakers' presentations are online at www.eclf.bike
The partners
Other partners that presented themselves at the ECLF were amongst others Register of Initiatives in Pedal Powered Logistics (RIPPL), an inventory of initiatives in the field of cycle-logistics in Europe. The project was given to Fietsdiensten.nl by Connekt, the independent network for smart, social and sustainable mobility.
Mr. Bas Hendriksen represented Loendersloot Groep (Loendersloot traffic & mobility). Loendersloot Groep is a consultancy company specialized in cycle infrastructure, mobility, traffic management, sustainable mobility (planning)and traffic event coordination.
Mrs. Susanne Balm presented the findings of the LEVV-LOGIC research that is being executed by the Amsterdam University of Applied Sciences. The research presented focused on how to embed light electric freight vehicles in city logistics.
The Dutch Embassy
On the 21st of March, the Dutch Ambassador in Vienna, Mr. Marco Hennis and Mrs. Nicole van der Pauw of the Economic Department of the Dutch Embassy visited the conference and shared their knowledge on e-mobility which is on the rise in Austria.